Reprocessing
Monoflo has a dedicated team whose sole responsibility is to source products that have reached their end of useful life. We regrind and reprocess on site, and reintroduce the resulting materials into new, superior-quality recycled containers.
product-per-month capacity
material kept out of landfills
Industry-Leading Scrap Purchase Program
We Can Help You Close the Loop
For over a decade, Monoflo has helped companies transition away from linear operations by realizing the environmental advantage of recycling broken, obsolete, or surplus products, and the financial benefit of selling them back as scrap material to be recycled.
Our Process Makes a Difference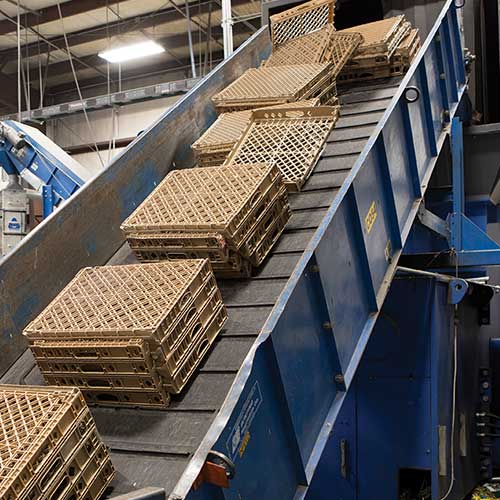 Sourcing Leads to Quality
Monoflo operates two state-of-the-art recycling and reprocessing centers that accept crate-grade, high-density polyethene (HDPE) and polypropylene (PP) products that are similar to what we already produce. By keeping the entire process in-house, we know the source and the makeup of materials and can maintain strict control over the quality of the finished, re-engineered resin.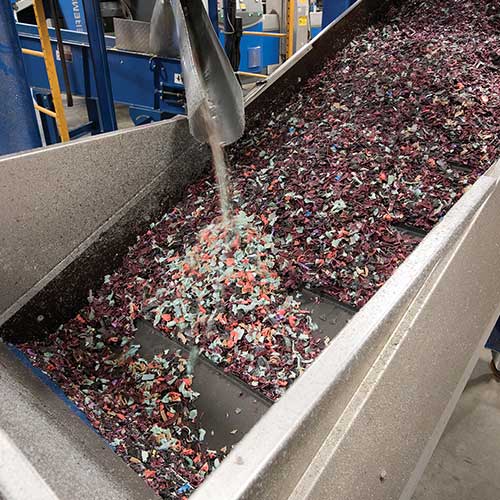 Going the Extra Mile
While the typical "regrind" process chops and grinds material into inconsistently-shaped, unclean chunks, our process takes it a step further by melting and refining to separate the plastic material from dirt, debris, metals, papers, and adhesives to create a cleaner material for reprocessing.
A Higher-Quality Product
By utilizing clean material in reprocessing, we're able to achieve a more consistent melt than straight "regrind" resin pellets. This results in a more uniform reprocessed pellet, free from defects and common contaminants, that in turn leads to a higher-quality finished product for our customers.
Ingenuity Leads to Results
With the daily output of newly-engineered resin measured in tens of thousands of pounds and a volatile petrochemical product market, we are adding an element of stability to our prices and proving how sustainability is good for business. What was once destined for a landfill, we re-engineer and seamlessly reintroduce as new, premium-quality recycled containers and trays.
Before & After
How It Works
Contact Us
Call us or fill out the form below to estimate what your material is worth.
Arrange Transport
We issue a PO and arrange for the pickup of your material.
Receive Payment
We send payment in as few as 30 days from material receipt.
See What Your Scrap is Worth